Throughout the years Tatiana has always been involved in various musical projects. As a solo artist, as well as together with other musicians. Here's an overview Tatiana's musical endeavours. Click the titles to open/close info!
RITUALS AND CONFESSIONS
Multimedia solo recital. Six new pieces about nostalgia, passion and longing.
Concept: Tatiana Koleva
Video & Installation: Ricardo Giraldo
Text: Nadejda Zaharieva
Performer: Tatiana Koleva – marimba / percussion, voice
Sound design: Frank van der Weij
MUSIC
Jacob ter Veldhuis Confessions from the world of sex, drugs & rock'n'roll(2004)
Sinta Wullur Dukha (2005)
Calliope Tsoupaki Dithyrambos (2005)
Yannis Kyriakides Bee Cult (2004)
Ricardo Giraldo GON' DEAF! (2005)
Ana Mihajlovic Transformations (2006)
All of the pieces in this program are especially written for Tatiana Koleva.
READ MORE
It is a new addition to the collection of pieces for marimba / percussion solo in the successful formula of "marimba-extended". Based on that conception Tatiana released her first solo CD "Knock on Wood".
Rituals & Confessions is a very personal program. Its premiere took place in a sold out hall at the Amsterdam's Theater Bitterzoet in March 2006, and has been followed by a series of concerts throughout Holland. The show is an hour – long program performed with the assistance of Frank van der Weij – sound design. The video and the artistic conception has been developed by Tatiana Koleva and Ricardo Giraldo in close collaboration with the other composers. On special occasions Ana Mihajlovic can join the performance as a DJ in her own piece "Transformations".
"For me this program has a highly emotional aspect. Most of the composers and artists involved in the development of "Rituals & Confessions" have, just like me, chosen Holland as a new home. Each one of us is welcome and successful, and yet longing for the tradition, temperament and the feel of our home countries and cultures. Nostalgia and inspiration to combine differences and create music is our thing in common and our strength. This project is dedicated to all the happy and successful, creative… foreigners" (T.K.)
DUO KOLEVA/VAN OTTERLOO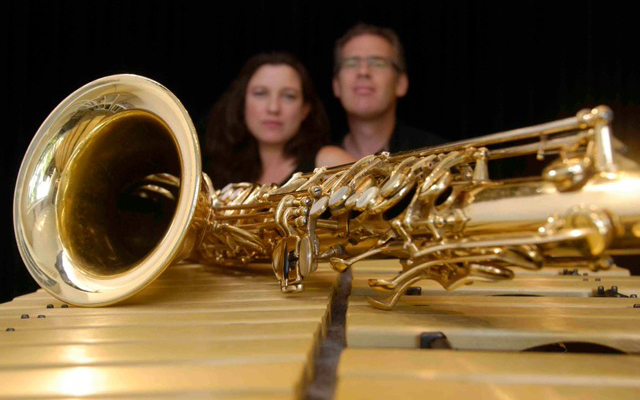 "… Extremely dynamic and particularly virtuoso line up with majestic sound…"
Tatiana Koleva – marimba/percussion
Rutger Van Otterloo – saxophones
For bookings and further information please contact Rutger van Otterloo info@rutgervanotterloo.nl
The combination of Koleva's and van Otterloo's different cultures and musical backgrounds: (jazz vs. classical contemporary music) creates a new form of music making with the freedom of improvisation and discipline of the strictly composed modern pieces. The duo develops its repertoire in close collaborations with prominent composers as well as jazz musicians. Next to that Koleva and van Otterloo make their own arrangements and improvisations.
READ MORE
The duo Koleva / van Otterloo is founded in the spring of 2003. Their first performance was during the "Varna Summer International Festival" in Bulgaria. The enthusiastic reactions of audience and press immediately made clear the impact and promising success of this particular line up.
The musical process the duo is undertaking and the pieces in their repertoire are all good examples of the modern tendency to cross the borders between different styles, genres and cultures. The result is modern contemporary music heavily influenced by jazz, rock and world music.
In 2008 their fisrt CD 'No Sugar Added'was released on the NovaLinia Records label.
FROM THE PRESS
"In Ellington's "The Single Petal of a Rose" a small miracle happened. The velvet sounds from Koleva's marimba made you forget Ellington's piano. The deep bass sound and the warm unfolding colors gave a melancholic shine to this little gem." Het Parool
"With a fresh look and undisguised passion the duo combines various genres. Their absolute virtuosity is always serving musicality." Jazzflits
"Together Tatiana Koleva and Rutger van Otterloo approach music from different perspectives and challenging the experiment. This leads to an excellent and remarkable musical mix with an outstanding level of performance." Quadrature, Belguim
"Saxophonist Rutger van Otterloo grabed the title roll by playing a series of briliant solos." Trouw, Armand Serpenti
"A big surprise during the SummerJazzBikeTour was the duo Koleva / van Otterloo. They played each and every piece of music with fresh approach and passion. Their explicit virtuositly is allways for the sake of music making …" Jazz Flits, Herman te Loo
"Koleva / Van Otterloo like to break the borders between the different genres. And they do that faboluosly. With ease and conviction without loosing the spirit and energy even for a second. Challenging and adventurous, crossing borders." Rumor Festival
"Saxophonist Rutger van Otterloo is a discovery! Tonight as the 'front man' with high quality improvisations, perfectly easy to follow." Draaiomjeoren, Cees van de Ven
Listen on youtube:
http://www.youtube.com/watch?v=y0Mn3SDuyBY
http://www.youtube.com/watch?v=K8gpsHbbXlU&feature=relmfu
http://www.youtube.com/watch?v=8zaOP9Iq3Sk
http://www.youtube.com/watch?v=y5Cq87EDM3s
YOUTH PERCUSSION POOL
Youth Percussion Pool is an unique international educational and performance event that serves as a platform and place to meet other musicians, exchange ideas and together to create exciting new programs. It is created in 2009 by Tatiana Koleva as artistic director. From the very first concert the enthusiastic reactions of audience and press immediately made clear the impact and promising success of this new formation.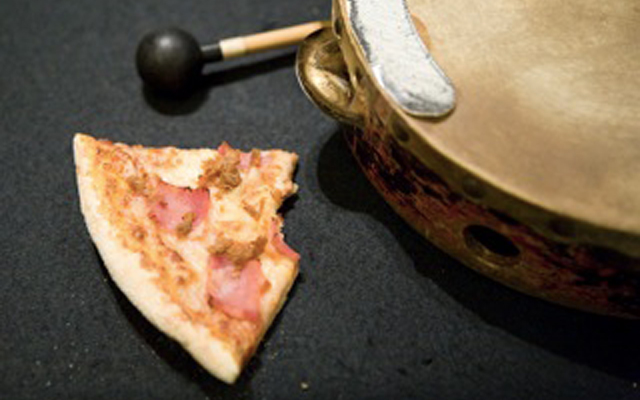 The Pool operates in collaboration with leading music festivals and organizations, and its live-show performances are created together with young talented performers, students in major schools and Conservatories of Europe. It is an open form of musical interaction of young professionals "on stage" with renown percussionists and performers, all coming from different countries.
READ MORE
The performances of the Youth Percussion Pool include a large variety of percussion instruments and are presented theatrically with humor and virtuosity, the programs combine in unique way the traditional instruments of Asia, Africa, Bulgaria, Mexico with the newest forms and compositions. Next to that the music is strongly influenced by pop, jazz and folk music, using improvisations and sound scape. Anything is music: sounds & rhythms can come from tables, cactuses and branches, tea cups and frying pans, newspapers and cow bells. The result is a spectacular performance event, with magical atmosphere and intoxicating spirit that leaves the audience spellbound and dazzled.
SPONSORS AND SUPPORTERS
Pustjens Percussion Products 
Marimba/Percussion Projects Foundation
American Crew
Dutch-Bulgarian friendship Assosiation in The Netherlands.
YouTube
http://www.youtube.com/watch?v=nSagowjDdoI
http://www.youtube.com/watch?v=kUr-CVU7w4I
Facebook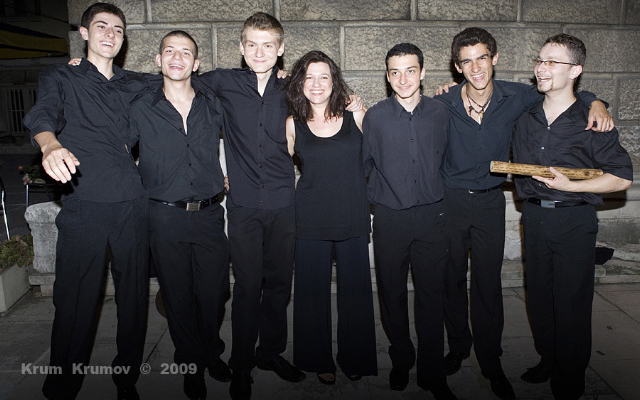 MARIMBA EXTENDED
As a contemporary solo percussion instrument the marimba continues to attract the attention of both performers and composers. Next to the existing repertoire, Tatiana Koleva has commissioned a number of compositions specially written for her and her projects and ensembles. Most of the pieces use her new performing technique of "marimba extended" developed during the intense collaboration with the composers, using other percussion instruments, sound tracks and her voice.
Based on that conception in 2004 Tatiana released her first solo CD "Knock on Wood" on the NovaLinia records, followed by the premiere of the multimedia program "Rituals & Confessions" in 2006. 2008 marks the premiere of the new acoustical solo program "Hollandse Slag!"
READ MORE
MUSIC
Rolf Gehlhaar LINEAR A (1978)
Fabrizio Casti KHROAI (1994)
Ricardo Giraldo MARIMBA OVERDUBBED (1999)*
Louis Andriessen WOODPECKER (1999-2000)
Martijn Padding COUPLE (2000)
Chiel Meijering Milk & Luiman (solo version 2003)
Yannis Kyriakidis Bee Cult (2004)
Jacob ter Veldhuis Confessions (2004)
Sinta Wullur Dukha (2005)
Ana Mihajlovic Transformations (2006)
Dimitar Bodurov Miniatures for marimba (2008)
ORGAN & PERCUSSION
Jan Hage – organ
Tatiana Koleva – percussion
Jan Hage and Tatiana Koleva worked together for several years in different occasions. Out of that collaboration grew the idea to continue developing their musical and project ideas together. In addition to the composed pieces, their concerts include
improvisations, sound tracks & films.
2010 marked the release of the CD "Music for Organ & Percussion" on Orgelpark Record Label.
Links:
www.orgelpark.nl
www.janhage.nl
For bookings & additional information please contact per mail:
jan-hage@planet.nl
info@tatianakoleva.com
or phone:
+ 31 6 42925091 (J. Hage)
+ 31 6 29572771 (T. Koleva)
READ MORE
REPERTOIRE
Sofia Goebaidolina: Detto I (1978) organ & percussion
Wolfgang Rihm: Siebengestalt (1974) organ & tam-tam
Jan Hage: Professor Barabas (from 'Suske & Wiske' suite)
(2003) * organ & marimba
William Bolcom: Black Host (1974) organ, percussion & tape
Larisa Vrhunc: Spomini na prihodnost / Memories of the future (2003) * organ & percussion
Peter Adriaansz: Structure XVI (2005) * organ & marimba
Juan Felipe Waller: Vigil – Chemicangelo II (2006) ** organ & marimba / percussion set
Jacob ter Veldhuis: The Shining City (2002 / arr.2006) organ & drums & sound track
Hans Koolmees: Events (2006) * organ & vibes / percussion
Christina Viola Oorebeek: Pinwheel Stellar (2007) * organ & percussion
* written for Hage / Koleva
** arranged for Hage / Koleva
WORKERS UNION
LOUIS ANDRIESSEN – WORKERS UNION (1975)
"symphonic movement for any loud sounding group of instruments"
A few words by Andriessen about his work:
"….Workers Union was written for the Dutch orchestra De Volharding (Perseverance) in which I myself figured as a pianist at that time. This piece is a combination of individual freedom and severe discipline: its rhythm is exactly fixed; the pitch, on the other hand, is indicated only approximately, on a single-lined stave. It is difficult to play in an ensemble and to remain in step, sort of thing like organising and carrying on political action…." ( L. A. )
Workers Union is often performed by different ensembles in various combinations and occasions in Holland and abroad. However, in my experience so far I have had the opportunity to be part of several different projects based on that piece, working in close collaboration with Louis Andriessen himself.
READ MORE
'Industrieproject 1: KLM-Cargo' of the Theatergroep Hollandia
Solo Version for percussion installation, soundtrack and visual arrangement
Workers Union performed by De Volharding, T. Koleva-percussion, VJ EBOMAN
In 1998 the Theatergroep Hollandia developed a theatre play 'Industrieproject 1: KLM-Cargo' that was performed in the 'Freight Station' of KLM – Cargo, Schiphool, The Netherlands, where people and machines work 24 hours per day – non stop. During this performance the composition had been realised by percussion, sound track, piano and 12 actors. The sound track was developed by the members of De Veen studio and recorded by Ton van der Meer, Paul Koek, Tatiana Koleva and Florentijn Boddendijk.
In the solo version, the set-up for the Workers Union is derived from the 'Industrieproject 1: KLM-Cargo' of the Theatergroep Hollandia. It is a performance for percussion installation, sound track and visual arrangement and is based on the idea of collectivism. Work and Workers are present and performed in the audio track, and the theatre approach of the performance of the percussionist.
Even as a solo version, the entire piece is made possible by the efforts of musicians and artists and the player becomes a part of the performing and theatrical mechanism as well as from the working team.
Soundtrack:Ton van der Meer, Paul Koek, Tatiana Koleva, Florentijn Boddendijk
Direction advise:Paul Koek
Visual realisation:Tatiana Koleva
Workers Union performed by De Volharding, Tatiana Koleva-percussion, VJ EBOMAN
This project was an initiative of De Volharding and myself. For its realisation we approached also the VJ EBOMAN. His image manipulations are made possible by using triggers attached to the the percussion set-up while playing life. In that version the piece has been performed several times with a great success.
BULGARIA
BULGARIA
For everyone that lives and works out of his/her home country it would be easy to understand the emotional importance for me of this on-going project.
Living for many years in Holland – a country where modern art and music are so well developed – I had the opportunity to meet wonderful musicians and artists. It is really great to be able to build a life that allows me to work as a professional musician, travel, and perform the music I love. Some of my trips take me to Bulgaria…..my home country, where I work intensively as a musician, and teacher for the last few years.
READ MORE
Bulgaria is known for its talents and vast musical potential. That of course is very well represented by its famous folk music and traditions. However, in the field of contemporary music there is still a lot to be discovered. In the situation of changing political systems and economical structures, finding a new way to develop the cultural and social life, living as a professional musician is very demanding.
The main problem in the field of contemporary music (especially for percussion) is the lack of information, finances and opportunities for working with the newest techniques, compositions and methods, as well as the possibility to listen to leading performers and ensembles of our time. For percussionists that is even more complicated since, there are simply not enough instruments of a good professional quality. However, the Bulgarian teachers, and musicians, despite of the poor circumstances, are doing their out most best to redevelop a good musical education and concert events.
Through the course of years I have developed a close collaboration with the organization of "MARCH MUSIC DAYS" Festival, "VARNA SUMMER FESTIVAL", and various colleagues and teachers from the capital Sofia, and throughout the country.
Every one of my visits to Bulgaria becomes a highly emotional and unforgettable experience. Next to the challenge of preparing courses, classes, collaboration with colleagues and students and exchanging ideas and plans, the music we program for the bulgarian audience is of a main importance. It became a tradition to invite internationally recognized musicians, composers and performers to the festivals in Rousse, Sofia and Varna. With the kind support of different Foundations, sponsors, and organizations, we were able to have workshops, classes and performances by some of the most outstanding musicians and ensembles such as:
Ricardo Gallardo – percussion, Mexico; Tara Bouman – clarinets NL / Germany; Helen Bledsoe – flute, USA / Germany; Lisa Bielawa – voice, USA; Anumadutchi Percussion Group, NL; Orkest de Volharding, NL; Jurjen Hampel – conductor, NL; Louis Andriessen – composer, NL Ron Colbers – percussion, NL, Rutger van Otterloo – saxophones, NL; etc.
SPONSORS
Gaudeamus Foundation for Contemporary Music, The Netherlands
Muziekgroep Nederland, Amsterdam, The Netherlands
Mexican Government
Pustjens Percussion Products, Amsterdam, The Netherlands
Dutch Embassy in Sofia, Bulgaria
Komet Internationale Spedition, Germany
Mr. Marten Riedijk & Rotary Club Lekkerkerk, The Netherlands
Future plans include collaboration with:
Frances – Marie Uitti, cello USA / The Netherlands
Xenakis Ensemble, The Netherlands
Filmmuseum, Amsterdam, The Netherlands
David Dramm – composer USA / The Netherlands
Tambuco Percussion Quartet – Mexico
Marcus Stockhausen – trumpet, Germany
Ensemble ELECTRA, The Netherlands
RELATED WEB SITES:
www.gaudeamus.nl (Gaudeamus Foundation for Contemporary Music, The Netherlands)
www.roussefestival.mlnk.net (March Music Days International Festival, Rousse, Bulgaria)
www.varna.bg (Varna Summer Festival, Varna, Bulgaria)
www.komet-spedition.de (Transport Company, Germany)
www.antonko.com (Percussion instruments builder from Bulgaria)
www.pustjenspercussion.nl(Pustjens percussion products )
HOLLANDSE SLAG!
Hollandse Slag!
A Tribute to Dutch Percussion
PROGRAM
Mayke Nas – Ready Made – new version 2008
Klas Torstensson – Two Showpieces for Percussion 2008
Benedict Weisser – Abulafia 2008
Ron Ford – Dream 2008
Dimitar Bodurov – Miniatures for Marimba 2008
Jacob ter Veldhuis – Barracuda Concerto 2006
Yannis Kyriakides – Bee Cult 2004
Louis Andriessen – Woodpecker 1999
Michel van der Aa – Solo for Percussion 1997
Living for many years in The Netherlands – a country where modern art and music are so well developed – I had the opportunity to meet wonderful musicians and artists. It is really great to be able to build a life that allows me to work as a professional musician and teacher, travel, and perform the music I love.
This program is on going project with new pieces and premieres that I believe are promising edition to the new repertoire in percussion music. This program is only acoustical, basic solo music = great pieces for marimba and percussion, requiring dedication and virtuosity. Each of the pieces is either written for me or created in close, intense collaboration with each one of the composers, all working and living here in Holland.(T.K.)