Check out Tatiana's discography, reviews and info on her own label and signature mallets. Also you can download hi-res pics or Tatiana's biography in English, Dutch or Bulgarian. Just click to open and close.
Born in Bulgaria, Tatiana Koleva lives and works at present in the Netherlands. Internationally renown as virtuoso solo and ensemble performer, she is actively involved in the promotion of contemporary music and art forms all over the world. She has established herself as a leading percussionist specializing in marimba. Her performances leave the audience spellbound with intriguing rhythms and surprising musical developments.
In addition to her intensive concert activities Mrs. Koleva is becoming a very respected educator. She leads regularly master classes for marimba/percussion and chamber music as well as composer workshops. Currently she holds a teaching position at the Prince Claus Conservatory of Groningen – The Netherlands.
2009 marked the beginning of her new very successful project "Youth Percussion Pool", an education and performing event that takes place annually, including master-classes, workshops and concerts with young professionals. In the beginning of 2010 Tatiana Koleva received the prestigious Prize 'Musician of the Year 2009' by the National Radio and the audience of Bulgaria. Just recentely the Youth Percussion Pool was awarded "Ensemble of the year 2012" in that same contest.
Tatiana Koleva has commissioned a number of compositions specially written for her and her projects. She works regularly with renown composers such as K. de Vries, L. Andriessen, D. Lang, Y. Kyriakides, M. Lanza, Jacob TV, D. Dramm, Ts. Minkin, C. Jost, K. Torstensson to name a few. 2012 marked the world premieres of two concertos: by the young Bulgarian conductor/composer Martin Georgiev and a Double Concerto by percussionist/composer Emmanuel Sejourne and a new duo for flute and marimba by Peter Klatzow.
Ms. Koleva has appeared as a soloist of various orchestras and regularly performs with leading ensembles and theatre groups. She has duos with the organist Jan Hage, flutist Eleonore Pamaijer and the jazz saxophonist Rutger van Otterloo. Next to her activities as a classical musician she is often involved in cross-genre projects with improvised jazz, rock, film and theatre music. One of the very successful such formation is the contemporary blues / rock band Rubatong.
Tatiana Koleva has given recitals, master-classes and clinics throughout Europe, the USA, Japan, Jordan, Mexico, Brazil and Canada.
Tatiana appears on various recordings of NovaLinia Records (her own label), as well as on Decca, New World Records, Attacca, Unsounds, Mode Records, Wergo, Future Classics, Orgelpark and BVHAAST.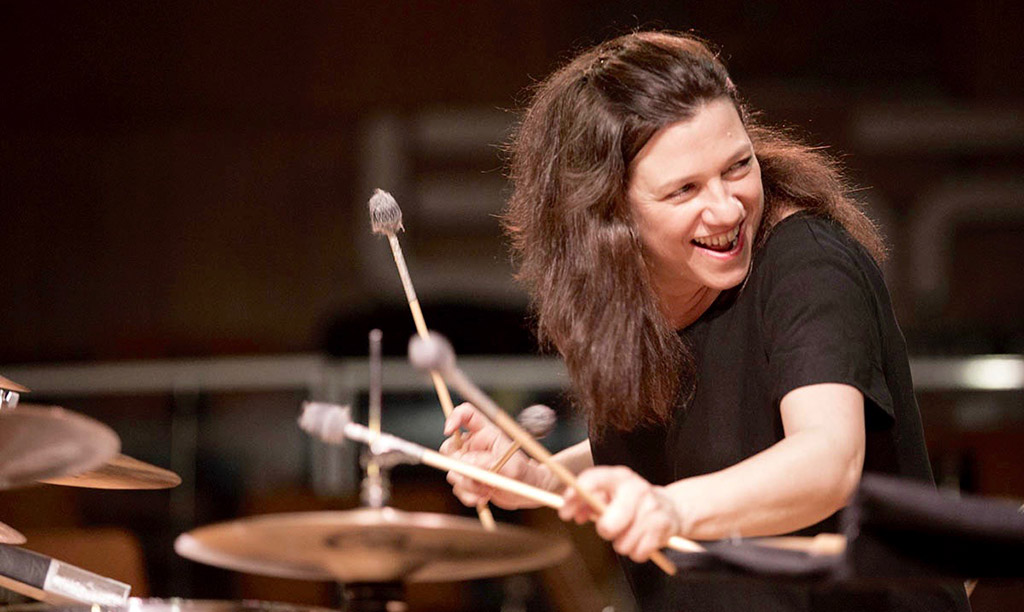 Danny Riley, Bachtrack
" … Bulgarian-born percussion master Tatiana Koleva .."
" … Koleva's octopus-like movement around the kit was a spectacle in itself .." " ...hypnotic performance…"
Kultura, news paper, Bulgaria by Ekaterina Docheva
" ….The Percussion Evening led by Tatiana Koleva & Joeke Hoekstra, together with the Youth Percussion Pool was a real explosion - gazer of ideas, attractions teasing the fantasy and awakening the interest for the endless world of the percussion. … Vital, honest, open, heartfelt art!`"
AD, NL
" Percussionist Tatiana Koleva stole the show with the piece of Iannis Xenakis - Rebonds, while she was in the company of the dancers Maurice Causey, Madeline Harms en Sedrig Verwoert. …"
Volkskrant, Annette Embrechts
" … You hear the percussionists breathing, and how they become one with their extended set ups. It is this physically felt momentum in the live performance of the music by Tan Dun and Iannis Xenakis that brought the dance-concert "Snow in June" to an intense experience…"
" … The Bulgarian Percussionist Tatiana Koleva led her YPP to a sparkling performance of Tan Duns Water Music …"
New York times, USA
Review by Allan Kozinn about ELECTRA's concert in The Lincoln Center, New York in "The Great Performers Series"
"... The work was performed as a virtuosic percussion solo with a theatrical twist: the stage set and the blue overalls worn by the ensemble's superb percussionist, Tatiana Koleva... ...brilliantly played performance...an explosive energy...."
Rumor Festival, Utrecht, NL
"Koleva / Van Otterloo willen de grenzen tussen verschillende genres doorbreken. En dat doen de twee ook zonder meer. Met speels gemak zelfs, zonder de aandacht ook maar enig moment te laten verslappen. Dwars en avontuurlijk, grensoverschrijdend en muzikaal."
De Volkskrant, NL, Huib Ramaer
" ....Tatiana Koleva's performance of Workers Union is impressive. Dressed in overall and cap, surounded by a scaffolding, she is hitting super tight on plywood boxes, bongo's and scrap metal. Together with the soundtrack she creates an arousing heavy-metal effect. Part man, part machine she resembles the labour variation on Paul Verhoeven's Robocop...."
Het Parool, NL
Review by Jos Bloemkolk about a composition by Corrie van Binsbergen, written for the Asko ensemble in connection with a Frank Zappa Project.
" ... Percussionist Tatiana Koleva ruffled on the marimba, which is unmistakable Zappa-esk. The only difference: in Zappa's band Tatiana Koleva was called Ruth Underwood...."
March Music Days, Rousse - Bulgaria
" … Virtuosic encores and incredible pleasure for the audience was the concert of Sofia Soloists, one of the high-lights of the March Music Days Festival program…." " ….Great energy and spirit was the world premiere of the Concerto for Vibraphone, Marimba & Orchestra by E. Séjourné who was also a soloist in his own work together with T. Koleva. They were almost dancing on stage while performing the work in which jazz, folklore and improvisation were crossing. Together they also played encore that made the audience even more happy. …."
March Music Days, Rousse - Bulgaria
title: "Young percussionists with thrilling concert in the Russe concert hall"
"The visitors of the final presentation concert of the percussion master classes by E. Séjourné and T. Koleva had the chance to hear how does Scarlatti sound on marimba, pieces by Séjourné, great applause was given to Koleva's Youth Percussion Pool that she leads from Holland, inspiring artistism of young performers and kids. All together there were over 30 participants in this' year Academy that had the lucky chance to follow a course with professionals such as Séjourné and Koleva."
Queen Elizabeth Hall, London review by By Keith Potter
" … the punchy, vintage early-period Workers Union turned up twice: the first in a new version for solo percussion (brilliantly delivered by Tatiana Koleva)."
Percussions, France
CD "Knock on Wood" reviewed by Michel Faligand for the French magazine Percussions
" ... After listening to her CD it is not surprising Koleva harvested several prizes all over the world. I don't believe the French passionate music lovers had the opportunity to hear her live. This situation has to change rapidly. TK managed to put together a programme that luckily doesn't follow the beaten track.
Her astonishing technique produces a series of compositions worth while listening to. I listened to it repeatedly with immense pleasure also due to the excellent recording and sound. Ladies & Gentleman promoters, visit Tatiana Koleva's web site and invite this exceptional musician for concerts and master classes, you won't regret it. And you too, dear reader, order her album which is very near my heart..."
Nancy Zeltsman - marimbist USA
Nancy Zeltsman about the CD "Knock on Wood"
"It's a truly wonderful collection of very complimentary pieces - and is beautifully performed. Thanks for your unique, original concept. It makes a great contribution to the still-too-small group marimba recordings of real quality.
Congratulations!"
Business News Radio, NL
Robert Vermeulen about the solo CD "Knock on Wood"
"... I find it a very fascinating entirety. It's something for the connoisseurs, but still accessible and really exciting. I experienced a live performance of Louis Andriessen piece Woodpecker, a very thrilling act, the excitement hidden in the rests, never knowing when the next sound will be...
... The album is very well balanced. I could listen to it in one go, something that can't be said about most of the percussion albums. She is a truly remarkable percussionist..."
Irish Times, Ireland
"...Major impact at the Waterford Festival's (ELECTRA concert) came from a 1970's Andriessen classic, Workers Union, heard in a metallically explosive version for solo percussion (Tatiana Koleva) and tape…"
Musica Viva, Bulgaria
Review by Roumen Balyosov about the Third Annual Week of American Music in Bulgaria
"... Teyas Ensemble members Helen Bledsoe (flutes, USA/Holland) and Tatiana Koleva (Bulgaria/Holland, percussion), presented a program that, while not conceptually unified, was equally interesting. Their perfect mastery of a rich arsenal of non-traditional sounds, sharpened contemporary awareness and completely unlimited improvisational freedom made their performance an engaging spiritual experience... "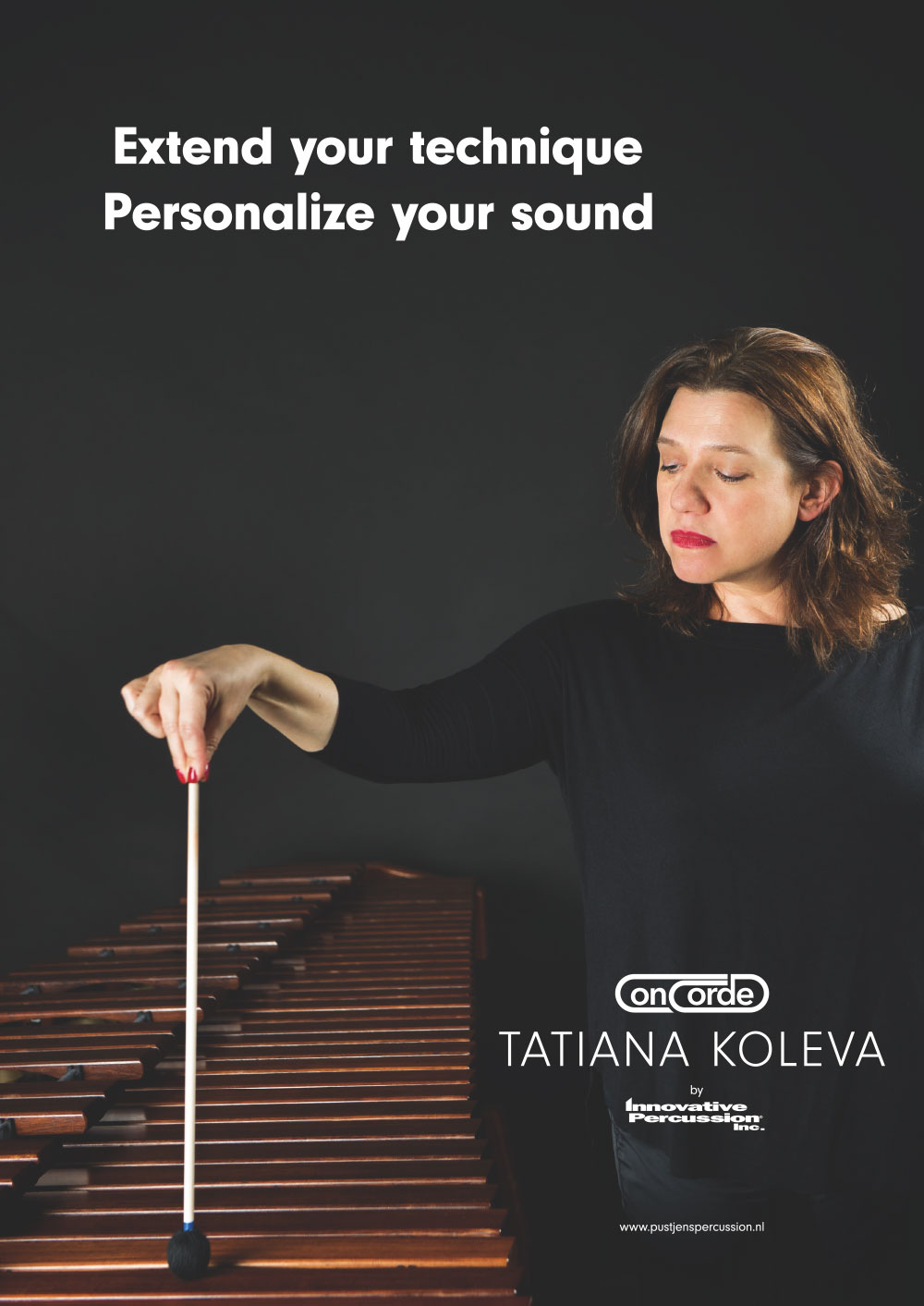 ...the series is designed to meet the requirements of the modern
adventurous marimba performer.
...suits the sound of the current marimba performing techniques:
covering the entire spectrum from the typical round, resonant low marimba register to the sparkling, pizzicato passages on its top end without loosing it's warmth and character.
...special attention is paid to the balance: that way the mallet responds immediately and naturally to the touch of the player and the heads do not weigh heavily forward, neither are they too light.
...the long birch handles are very gently polished, so that the contact with the wood is natural and firm - no additional wrapping tape is needed.
...the series is designed in such a way that even when one combines the different models, the mallets still feel the same (balance and weight).
...a mallet designed to advance your technique and personalize your sound
All 5 models are with rubber core and thin cover layer ring made in combination of loose and very tight wrapping. Although its shape is round, there is still a point at the top of the mallet head with more wool, in this way giving the possibilities for extensive color nuances in addition to the fundamental ground tone. Each model has various sound possibilities within its own spectrum.
TK1 Profound: soft, intense dark, round sound
TK2 Sonorous: medium soft, sonorous, round sound, subdued articulation
TK3 Cantabile: medium, all round; with its elasticity and flexibility - ideal practising mallet
TK4 Veloce: medium hard, swift, active mallet that works very well for the large virtuoso pieces
TK5 Sparkle: hard, contemporary mallet for specific composers requirements in solo & chamber music
Graduate sets
TK-GS1 classical
TK-GS2 contemporary
available at