Tatiana is regularly involved in musical projects as a solo artist and in many ensembles with other musicians. Here's an overview of Tatiana's musical endeavours. Click the titles to open/close info!
"The DUO is a form of performance that has always attracted me. The very close, almost intimate interaction between two players gives that extra layer of concentration and excitement that reaches over to the audience and creates a very special momentum in music making". T.K.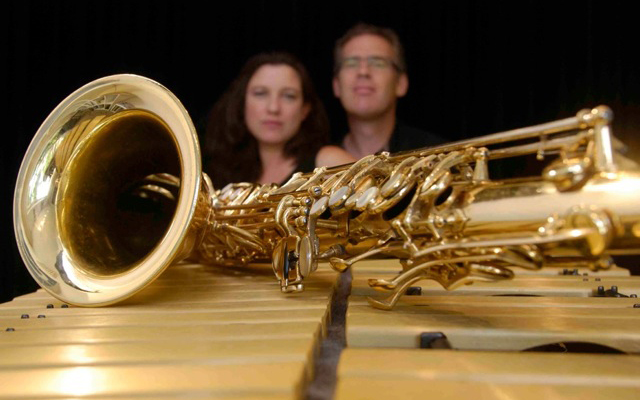 "… Extremely dynamic and particularly virtuoso line up with majestic sound…"
Tatiana Koleva – marimba/percussion
Rutger Van Otterloo – saxophones
For bookings and further information please contact Rutger van Otterloo info@rutgervanotterloo.nl
The combination of Koleva's and van Otterloo's different cultures and musical backgrounds: (jazz vs. classical contemporary music) creates a new form of music making with the freedom of improvisation and discipline of the strictly composed modern pieces. The duo develops its repertoire in close collaborations with prominent composers as well as jazz musicians. Next to that Koleva and van Otterloo make their own arrangements and improvisations.
Jan Hage – organ
Tatiana Koleva – percussion
Jan Hage and Tatiana Koleva worked together for several years in different occasions. Out of that collaboration grew the idea to continue developing their musical and project ideas together. In addition to the composed pieces, their concerts include
improvisations, sound tracks & films.
2010 marked the release of the CD "Music for Organ & Percussion" on Orgelpark Record Label.
Links:
www.orgelpark.nl
www.janhage.nl
For bookings & additional information please contact per mail:
jan-hage@planet.nl
info@tatianakoleva.com
or phone:
+ 31 6 42925091 (J. Hage)
+ 31 6 29572771 (T. Koleva)
Repertoire:
Sofia Goebaidolina - Detto I (1978) organ & percussion
Wolfgang Rihm - Siebengestalt (1974) organ & tam-tam
Jan Hage - Professor Barabas (from 'Suske & Wiske' suite)
(2003) * organ & marimba
William Bolcom - Black Host (1974) organ, percussion & tape
Larisa Vrhunc - Spomini na prihodnost / Memories of the future (2003) * organ & percussion
Peter Adriaansz - Structure XVI (2005) * organ & marimba
Juan Felipe Waller - Vigil – Chemicangelo II (2006) ** organ & marimba / percussion set
Jacob ter Veldhuis - The Shining City (2002 / arr.2006) organ & drums & sound track
Hans Koolmees - Events (2006) * organ & vibes / percussion
Christina Viola Oorebeek - Pinwheel Stellar (2007) * organ & percussion
* written for Hage / Koleva
** arranged for Hage / Koleva
Eleonore Pameijer - flute
Tatiana Koleva - marimba / percussion
The repertoire of Koleva / Pameijer consist of new specially written works and transcriptions. The duo is particularly interested in music with clear melodical line, harmonies and structure. All the new pieces are good examples of that. Some highlights are:
G. F. Handel
Flute Sonata No. 1 in B minor **
Joost Kleppe
Persephone (2015) * for flute & marimba / vibraphone
Peter Klatzow
Night music with illuminations (2013) * flute & marimba
Jeff Hamburg
Mode III flute and marimba (2008) **
Peter Klatzow
Concerto for flute, marimba & strings
Astor Piazzolla
Night club 1960
* written for the duo Pameijer / Koleva
** arranged for the duo Pameijer / Koleva
Info & contact:
www.eleonorepameijer.com
www.tatianakoleva.com