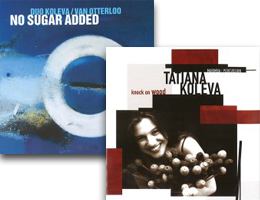 Click the photos to download.
Tsenko Minkin
Tsenko Minkin - Concerto for marimba / vibraphone and orchestra (2015) is written specially for Tatiana Koleva and was premiered with the Sofia Philharmonic Orchestra in 2015.
Vrije Geluiden
Tatiana Koleva on Vrije Geluiden with saxophonist Rutger van Otterloo playing Duke Ellington's Single Petal of a rose.
Youth Percussion Pool
The Percussion Extravaganza-Rituals took place during the 2011 Varna Summer Festival. This project was dedicated to the memory of Jan Pustjens.
Mysterious Forest
impression of MYSTERIOUS FOREST performed by Tatiana Koleva
production: Eric de Clercq AV Producties www.ericdeclercq.nl
Genesis Concerto
Martin Georgiev: Percussion Concerto No.3 'Genesis' performed by: Tatiana Koleva - Marimba, Varna State Opera Symphony Orchestra, Conducted by the Composer at the World Premiere on 26.11.2011 at the Varna State Opera House, Varna, Bulgaria.
Rubatong - Ill Fated
Han Buhrs, Tatiana Koleva, René van Barneveld & Luc Ex Recorded in Zaal100, Amsterdam, july 2015
Rubatong - Jazzdor 2013
Live at festival Jazzdor 2013 13 novembre 2013, Pôle Sud, Strasbourg Han Buhrs, voice / Luc Ex, bass / René van Barneveld, guitar / Tatiana Koleva, percussion.
Rubatong - Nothing Like Today
Live at DOM, Moscow on April 15, 2016